Hi
None of my models success for painting normally, always appear as pic attached, any idea?
Thanks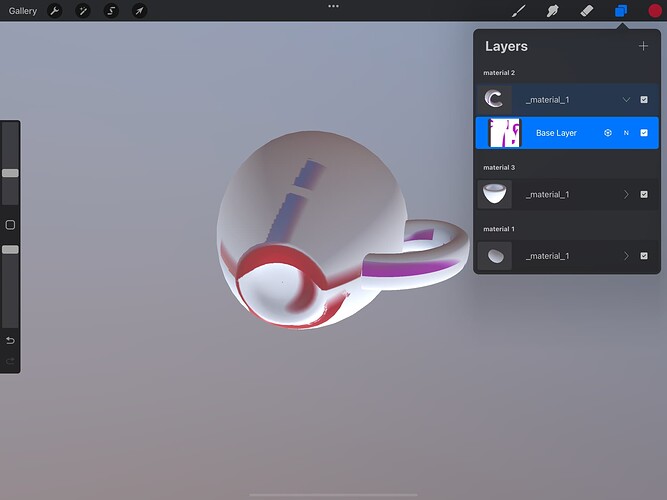 Black White Cup copy-3.zip (1.1 MB)
Hi @btd53 ,
Is that a model from the uMake library or something you imported from another source?
Thanks,
Evi
Yes, I modelled it within uMake, not import, actually, I found the models within uMake library works flawlessly.
So I'm curious if something done wrongly.
@btd53 thanks for the additional information.
Procreate 3D painting requires the model surfaces' UV to be unwrapped. For most of the models we're adding to uMake we're making sure there's a UV map.
At the moment, uMake doesn't have a UV unwrapping tool, but there's a workaround. Nomad Sculpt app has a cool and simple UV map tool that should work in most cases. This is where this feature is located in the Nomad app: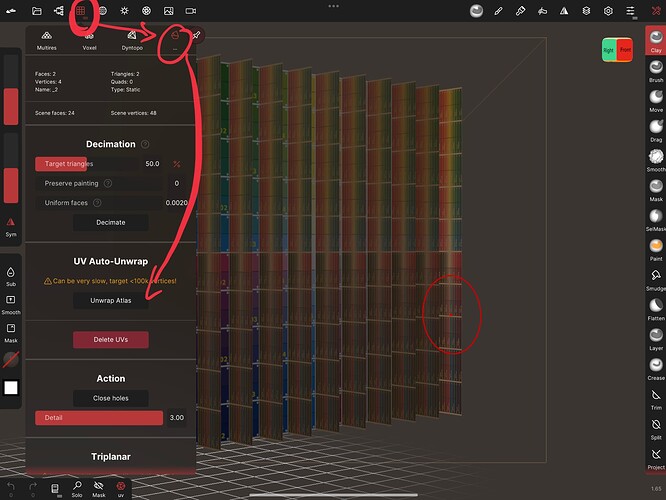 Let me know if this helps.
Thanks,
Evi
This method works with a newly created modal… the problematic one still encounter unexpected results.
And this unlikely works well for complicated modal. Just using a modal finished in Shapr3D, the UV unwrap function in Nomad is not enough to generate "clean" maps.
thanks
In Nomad Sculpt, are you using the unwrap tool on all the geometry (all at once)? Because if you unwrap it one surface at a time, it produces better results (most times).
As for complex scenes/models - yes, you might need more advanced UV unwrap tools that focuses on preparing the 3D geometry for 3D painting.
Can you add more details about your workflow?
Thanks,
Evi
One by one in Nomad… anyway, redo the initial modal once, please check if I have done anything wrong in uMake, for example, you may noticed that the cup profile is joined by several curves, not sure if it is a wrong way to do the job.
Thanks
I don't think you've done anything wrong - it's just that 3D painting requires more work (UV mapping). Did you try to tap the 'Delete UVs' in Nomad and then Unwrap button?
Thanks,
Evi
Doesn't work… may be Blender is a solution in this case, just checked a tutorial from Gravity Sketch iPad — LandingPad — Blender (UV unwrap, mark seam) — Procreate.
Not yet a total 3D solution in iPad.
Thanks
Hi @chaudharywebdiv,
Here are a few updates regarding this issue:
Most of uMake's content library is designed for 3D painting. If you export it as an OBJ and import it into Procreate, it should work as expected.

For surfaces you create in uMake, further work may be required using other software, either on the iPad or on desktop, as uMake doesn't support UV mapping creation for surfaces.

Since this post was made, we've added the option to import USDz files back into uMake. This may not address this issue specifically, but it could help in general with workflows between uMake and Procreate.
Thanks,
Evi